People prefer different items and have different ideas for the interior decoration of their houses. Some choose carpets and others like floor tiles. No matter, which option is chosen, these items need constant cleaning and maintenance. If you do not have the time, you can call Tile Cleaning Costa Mesa – we will provide all types of cleaning services and save you a lot of money.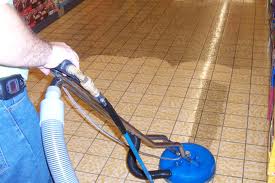 Costa Mesa is situated in Orange County, California. It was established in the 1950's and has grown much since then – at the moment Costa Mesa is a large commercial center. There are more than 20 parks in the city which provide pleasant places for picnics, outings and games. A golf course brings further amusement to the local residents and the city holds one of the most famous annual festivals in the area – the Orange County Fair.
Tiles are a very effective and durable solution for a house surface. They are easy to maintain and clean, cannot be permanently stained and are not to be changed as often as the carpets or the furniture. However, our customers don't realize that the more they clean the tiles with regular detergents, the dirtier and shabbier their surface becomes. Unfortunately, common solutions are not so strong and they leave a thin layer of dirt which with time accumulates and can no longer be removed by regular techniques. This is where our assistance becomes necessary. We use special equipment and techniques to ensure that even the most stubborn dirt will be removed and that your new tiles will look like brand new. Another part of your floor which will need cleaning is the grout. It is also prone to stains and once they have appeared, they are very hard to remove. The problem with the grout is that there are some tiny holes which are regularly filled with detergent, water and dust till the stains are to be seen. Due to the small organic particles which can enter the grout, mold can also appear in some cases. Using our steam and hot water equipment we will be able to remove all the tile dirt efficiently.
We at Tile Cleaning Costa Mesa offer many solutions to your tile problems
Sometimes the grout is so dirty and shabby that it simply cannot be cleaned effectively. In such cases we can offer you to re-apply or re-color the grout and you can choose between many options depending on the design of your tiles. Such an action can save you a lot of money from removing the old tiles and installing new ones. In order to improve the protection of the grout and to ensure that no cleaning will be necessary soon, we can seal the surface in a special way which won't allow for any substance to enter and damage the grout. The special devices which we use will provide absolute accuracy to our job and ensure your full comfort at home.
Tile Cleaning Costa Mesa can provide the perfect solutions for your tile problems. If you need any part of your house cleaned, just give us a call and we will send a team on the spot.